Concrete masonry framing and the finest quality
custom construction make your dream home
in the Piedmont Triad region a reality.
At Canaday Custom Homes, we invest as much
of our time and creativity as necessary to ensure
your new home looks and feels just like you
imagined it, whether you're looking for a cozy,
functional home or a glamorous, sprawling
showplace.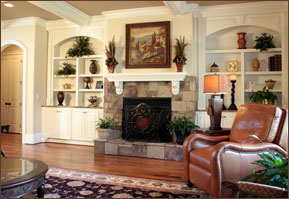 Elegant, practical design
from the inside out.
Your home should be livable and comfortable, as well as have great curb appeal. We know a home can look perfect from the outside but not suit your lifestyle on the inside. So we start by determining what you need inside – function, size, type of rooms, flow, and so on—before we turn our attention to the outside. Then, we work to design an exterior façade that suits your taste, whether it's traditional, contemporary, Mediterranean, French Provincial, or any other style.


---

Canaday Custom homes has an unlimited building license. All homes have a 2-10 warranty; a two year warranty on systems and appliances, and a 10 year warranty on the structure. Visit this link to learn more about the home warranty: www.2-10.com.