Together, Beth Pate and Donnie Canaday make dream homes become reality.
Donnie and Ginger Canaday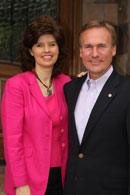 enjoy seeing dreams come true for their clients. Donnie has a degree in Business Administration from the University of South Carolina and over 16 years of experience in the construction industry. Ginger has an MBA from the University of South Carolina and works with the administrative side of the business. They enjoy interacting with customers to incorporate their ideas into a dream home that they will enjoy for many years. They make it a priority to establish a strong level of trust with their customers from the very beginning, and stay in contact with them throughout the construction process to ensure that their customers are aware of every detail of their new home.

Beth Pate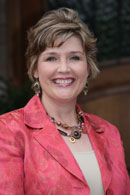 • 20 years of experience in interior design
• Has developed great relationships with clients and
has many repeat customers
• Owns a custom window treatment company; designs
and oversees the install of each window treatment herself
• Has worked from blue print stage (conception) to the
living stage (final) of choosing all furnishings in many homes
• Through Furniture Market and vendors she has wonderful
accessibility to furniture, rugs, and all accessories
• Utilizes faux finishes to provide unique wall techniques
• Provides assistance or can make all decisions on all aspects
of the home: lighting, tile, floor, surfaces (including stone
and granite), appliances, cabinetry, and paint options.
• Designs customized and unique tile backsplashes
and bathrooms
• Her main goal is to interpret each client's personality and
style, then give them the best current choices and assist
them with professional guidance.
---
Canaday Custom homes has an unlimited building license. All homes have a 2-10 warranty; a two year warranty on systems and appliances, and a 10 year warranty on the structure. Visit this link to learn more about the home warranty: www.2-10.com.